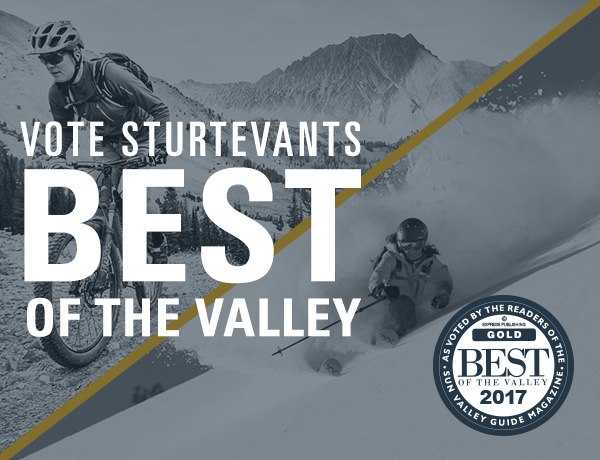 We would love your support to help us win
"Best of the Valley" in these categories!
Best Customer Service
Best Ski Shop
Best Bike Shop
Why is Sturtevants Best of the Valley?
Our Team: We have the most experienced and professional staff in the Valley! And just about anywhere…
Customer Service: With the best people we can actually deliver exceptional customer service and understand that each customer has unique needs.
Technical Services: With the best people comes the best technical services– ski and bike tuning and repair, footwear and boot fitting. We are obsessed with providing the highest quality technical services and we cater them to each customer's needs.
Best Rentals: Rent the Best! From the never ever to the passionate enthusiast, Sturtevants has the best and most complete rental and lease products, programs, and process in The Valley!
World Class Products: We prioritize quality, performance, and style and offer a range of price points with our products. We also work hard to offer our customers unique products not found everywhere else.
Convenience: Location, location, location. Main Street Ketchum (with parking), the base of Baldy (Warm Springs) and downtown Hailey. No one else offers that. We are here for you. Open 365 days a year with longer hours than the others.