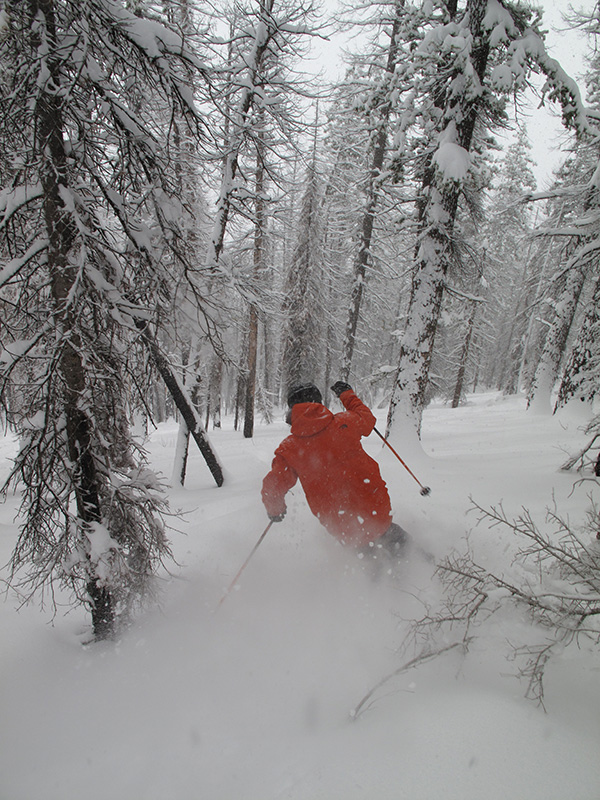 For our incoming visitors, we would like to warn you that stoke levels are high and holiday cheers are definitely at peak decibels in Sun Valley this December! Please be prepared for hooting and hollering in the mountains, dancing and partying around town, and unexpected acts of kindness everywhere.
After a beautiful fall and epic summer, ski season started in early November for Backcountry and Nordic skiers. And, it seems like we have been in a predominantly snowy weather cycle ever since (with more to come). This has created early season conditions reminiscent of the good ole' days!
Baldy is skiing excellent with good coverage in the Bowls, enough snow to ski The South Slopes, and the main groomed runs and north facing slopes in prime form. It is very true that when Baldy has snow like this it is one of the best ski areas in the world!
The Backcountry Skiing, for those who have been able to pull themselves away from Baldy, has been deep. Galena Pass is already holding a 60 inch snow pack. Some stability issues are about but we are optimistic they will heal up relatively well with a little time. Always know before you go and check online for daily stability forecasts.
Nordic skiing and snowshoeing is as good as it gets! They have been grooming the North Valley trails since early November, Galena Lodge has been open since the 21st of November, and Sun Valley Nordic Center has also been open since December 12th. Everyone is reporting excellent sliding!
Fat Bike riding is also growing in the valley with The Wood River Bike Park based at Big Wood Golf Course opening up this winter. Blaine County also grooms a loop at the SNRA headquarters for Fat Bikers and Sun Valley is going to allow riders on select trails this winter as well. Sturtevants Rental Haus on Main Street rents Fat Bikes and equipment for all of these great activities!
Of course, the place to be every holiday is shopping at Sturtevants!
From First Chair to Après, Sturtevants has you covered! Voted the Valley's Best Customer Service we offer the most convenient locations (Main Street Ketchum and the Base of Warm Springs), The Best Brands on the planet, and of course we Rent the Best! Alpine, Nordic, and Backcountry Gear as well as Snowshoes, Fat Bikes and Even Winter Outerwear. So, whatever your winter needs are, Sturtevants looks forward to helping you make this Holiday the best one yet!
YEEEEHAWWW!!!!
-Olin Glenne