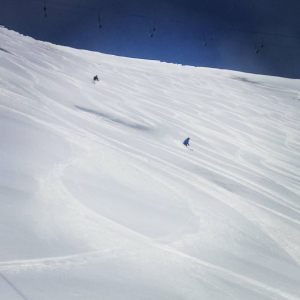 Naturally, spring fever sets in for many this time of year. Town has lost its illustrious winter white glow, spring products are arriving at Sturtevants, the days have gotten longer, and national media is in spring break mode.
But, I am here to tell you that we are in the mountains and this feverish logic applies itself much better to embracing elevation and heading out your back door for the high country! That's right; head for the mountains my friend where you will find many of the most glorious snow riding experiences yet. Whether it is on Alpine Equipment, Backcountry Skis, a Fat Bike, Nordic Gear, or with a fly rod in hand, many of the best days of the snow season are found in March and April!
On Baldy, we just received over 40 inches of snow in the last 10 days and a reset of winter conditions on the upper half of the mountain. That means we will be experiencing powder, corn, costume skiing, sunbathing, and the best social ski conditions of the season well into April (with the 17th set for Closing Day). Not to mention, the best ski racers in North America are coming to race for National Championship Titles on the spectator-friendly slopes of Greyhawk from March 22nd-27th. And, on March 26th, Sturtevants Warm Springs will be hosting a free demo of next year's Rossignol, Kastle, Salomon, Fischer, Volkl, and Black Crows skis, followed by a US Nationals street party! It's going to be a great spring on Baldy!
In the backcountry, travel becomes much more efficient, avalanche conditions are typically more stable (always know before you go), and your choice of powder or corn is frequently the tough decision of the day. Strangely enough, the highway turnouts that were jam packed in December and January are now all yours. For me personally, as an avid skier, backcountry skiing Highway 75 in March and April is in the top three reasons why I live here! It is simply as good as it gets!
With typical spring freeze-thaw temperature cycles, Nordic skiers and Fat Bikers are free to 'crust cruise' off the standard routes (where the snow is frozen) and explore new terrain they have only admired all season. An absolutely wonderful experience in the right conditions, which are typically found on sunny slopes when consecutive days of evening temperatures are in the twenties and the daytime temperatures are in the 40's and 50's occur.
Don't get me wrong, I am excited to ride my bike, hike, and even play some golf but I recommend holding those horses for a couple more weeks and embrace the fact that our backyard is offering some of the best conditions snow season has to offer.
Olin Glenne